Remington WetTech Rotary Electric Shaver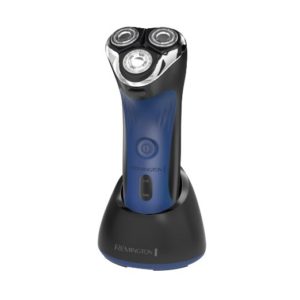 The Remington WetTech Rotary electric shaver boasts of the flexing Dual Track PrecisionPlus shaving heads. When it comes to achieving a comfortable, ultra close shave that easily adapts to the contour of your face, choose the Remington high precision heads. This shaver handles stubble and removes long hair with less effort from you. The WetTech rotary shaver, with its hard wearing precision engineered stainless steel blades, delivers a super close shave each time and makes it easier for you to capture hair and cut. The dual track system with three independent floating heads of fine cutters easily shaves unwanted facial hair comfortably without irritation. The design easily adjusts to any angle while reducing irritation. The dual track system allows maximum skin contact.
The Remington WetTech waterproof design with a non-slip rubber grip allows you to close shave without cutting yourself in the shower. It would be much pleasure to shave with a gel in the shower or in the sink using this 100% waterproof electric shaver. The non-slip rubber grip ensures firm grip and secured handling all throughout your close shaving moments. You can use the WetTech electric shaver for both wet and dry shaving. If your shaving routine is during shower, the Remington WetTech can support your lifestyle with its secure non-slip rubber grip to prevent you from getting a cut. A gift for you – waterproof mirror! The set comes with a waterproof mirror to help you get that great shave in the shower. RemingtonWetTech definitely supports your lifestyle preferences and comfort with utmost safety. A 100% waterproof shaver also means you are able to rinse it well quickly under the faucet running water.
The shaver comes with a long lasting lithium battery you can use for 60 minutes of cordless use. The rechargeable battery allows you to shave up to a max of 60 minutes, and if you are still not done, you can get a 5 minute quick charge for one time use. The 60 minutes cordless shaving is roughly 20 days use at 3 minutes per shave. To recharge, simply place the electric shaver on its charging stand and wait until the indicator lights show a fully charged battery. The lithium battery delivers maximum power to keep the electric shaver's high performance during shaving. The battery drives more energy to the motor. The charge stand is included with the purchase.
The Remington WetTech Rotary electric shaver boasts of the flexing Dual Track PrecisionPlus shaving heads