Philips Norelco AT 830 Gets It Done

Utilizing its topnotch shaving systems, the Philips Norelco AT 830 PowerTouch electric razor ensures smooth and comfortable shaving. Through its Dual Precision Shaving System, it effectively cuts both long, lying hairs and short stubbles. Additionally, a handy pop up trimmer can be used to cut and shape sideburns, goatees, mustaches and others. This integrated trimmer also has the perfect angle for trimming even nose and ear hair. A complete grooming routine can already be experienced using this single razor.
The patented Super Lift and Cut technology features a dual-blade action that lifts hair in order to cut comfortably below the skin level. An Aquatec seal provides for the option of either a dry shave or a wet shave with or without shaving cream, foam or gel. This means that it is 100% waterproof and can be used in the shower.For easy maintenance, it is also fully washable. Simply running it under water can already clean it. If a more thorough cleaning is needed, the brush that comes in with the razor can be used.
Its heavy-duty lithium-ion allows for cordless shaving of up to 50 minutes with charging time of one hour. For quick shaves, it can be charged for only three minutes to power it for one shave. Its battery indicator can also warn when it is already full or low. Being both cordless and rechargeable, this electric razor can be easily used anywhere.
• Dual Precision Shaving System captures long, lying hairs and short stubbles.
• The integrated pop-up trimmer is convenient for cutting and shaping facial hair and even nose and ear hair.
• Super Lift and Cut technologylifts hair to cut it below the skin level.
• Aquatec seal gives an option for either dry or wet shave.
Philips Smart Pivot System
For a fast and efficient shave, the Smart Pivot System keeps the three shaving heads in close contact with the skin. The shaving heads pivot to automatically follow every curve on your face and neck. With less pressure, excess skin irritation can be avoided.
Philips Smart Pivot System characteristics:
• Three shaving heads that automatically keeps close contact with the skin are included.
• Low friction heads facilitates a smooth shaving experience.
The flexible motion of Philips Norelco AT 830 PowerTouch electric razor makes it suitable for any shape of face, and type of skin. Areas that are hard to shave such as the neck, jaw and chin can be easily shaved. The low friction heads are shaped such that the skin can be further protected. The rounds are designed to minimize cuts, skin irritation and injuries.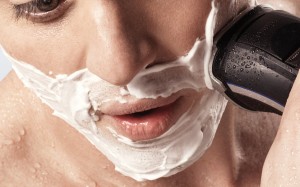 Advantages:
• Close contact with the skin: The three shaving heads are assembled in such a way that allows for a flexible, close contour-following shave even in curved areas.
• Rounded design: The shapes of the heads were designed with safety and convenience in mind.
Pros:
• Easy grip makes it very safe to use.
• Water proof razor can be used in and out of the shower.
• Fully washable razor body makes it easy to clean.
• Battery charges quickly.
Cons:
• Shaver does not work while plugged or being charged.
• There is no charging stand.
• There is no travel pouch included.
 Philips Norelco AT 830 Related articles